主頁
作者 文升
2012/05/22, 星期二
7天6夜超級口福星不丹之行
7D6N Superfoodstar - Bhutan
不丹之行,共有兩團,看你要八月出发还是11月出发,8月价格会比较便宜,晚上会比较常下雨,当地导游说是无大碍,参考行程如下:
17/8出发-7天6夜 每人RM7980(包曼谷飞不丹来回机票,曼谷和不丹所有地费,不包马来西亚来回曼谷机票)
21/11出发-7天6夜 每人RM8780(包曼谷飞不丹来回机票,曼谷和不丹所有地费,不包马来西亚来回曼谷机票)
来回曼谷机票亚航每人大约RM600-RM780
来回曼谷马航机票每人大约RM780-RM1250
*回程为了配合转机时间,如果要当天回到国内,回程请选择马航。
行程表:
第一天: 曼谷
DAY01: Bangkok
选择一:乘搭亚航FD2914,3:35PM起飞,4:50PM抵达
Option 1:Airasia FD2914,335pm-450pm
选择二:乘搭MH782起飞,3:15PM起飞,4:30PM当地时间抵达,
Option 2:MASairline MH782,3:15PM-4:30PM
车子接送到曼谷,进驻曼谷Salil Thonglor Soi 1酒店後,文升引领大家去品尝曼谷美味新颖泰菜,然后自由购物休闲时光。
Meet up and flight to bangkok,after arriving and check in Salil hotel thonglor soi 1 or same grade,Vincs Huang will lead everyone to taste the innovative thai cuisine,and free and easy with shopping or leisure after meal.
第二天: 巴羅
DAY02: Paro

清晨到曼谷机场,720am早上乘搭不丹航空Drukair,直飞不丹的帕洛, 抵達巴羅,它是不丹第二大城市,人稱高原上的雷龍之鄉,是不丹王國的西疆大域,也是不丹唯一的機場所在 地,有人口約6.000人。初次接触不丹文化,一定要游览宗堡,那是结合了政治和宗教的行政及控制中心,俨然是佛教色彩浓烈的碉堡,首先来到塔宗堡,它原是1646年初蓋在山上的一座瞭望塔,外觀如一座圓筒形堡壘,現已改為歷史博物館,然后到帕羅宗堡,这是除了虎穴寺以外,必须参观的地方曾是舊國會所在,建在海拔2千多公尺溪谷之上的城寨,有座壮丽的吊桥,经过时缅怀古代战士的足迹,,往西北方向看,可以看到雪山,雪山的另外一边就是西藏了.进入,感觉一切是这样的安静,使你不由得放慢脚步。 它是不丹最堅固、最具戰略性堡壘.然后一起到大街闲逛和购物,顺便可以喝喝咖啡和茶,吃糕点轻松偷闲。
After check out on early morning,go to Bangkok Suvarnabhumi airport and catch up Drukair direct flight to Paro,Bhutan.On arrival at Paro airport, after immigration and custom formalities, your guide for the trip will receive you and transfer you to the hotel. The valley of Paro contains a wealth of attractions and your afternoon sightseeing includes visit to Ta Dzong; once a watchtower, built to defend Rinpung Dzong during inter-valley wars of the 17th century, Ta Dzong was inaugurated as Bhutan's National Museum in 1968. Next in line is Rinpung Dzong; It was built in 1646 by Shabdrung Ngawang Namgyal, the first spiritual and temporal ruler of Bhutan; the Dzong continues its age-old function as the seat of the district administration, district court and the monastic body. The southern approach to the Dzong has a traditional roofed cantilever bridge called Nemi Zam. A walk across the bridge offers a wide view of splendor of the Dzong's architecture and an opportunity to tread the same path as the ancient warriors.
Later on, take an evening stroll along the main street, and perhaps visit a few handicrafts shops, or take refreshments at a local café or bar.
Overnight – Tashi Namgay Resort/Khangkhu Resort in Paro
第三天: 虎穴寺
DAY03: Hike to Taktsang(Tiger's Nest)Monastery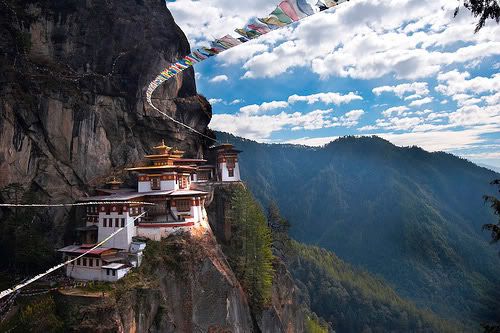 今天是令人振奮的一天,一起去參觀不丹最著名的虎穴寺,這座依着天險而建的古寺,讓人屏息嘆為觀止。这里是传说中8世纪时,印度高僧莲花生大师(Guru Rinpoch)在不丹冥想的地方。虎穴寺始建于1692年,在1998年的晚上遭遇了一场来历不明的毁灭性火灾。之后虎穴寺一度曾严禁普通游客进入,即使是教徒的进入也被严格限制。经过不丹全国人民的共同努力,虎穴寺于2005年重建完成并重新向世界展示,我们将安排骑马上去。
Today, we hike up to the famous cliff-hermitage called Taktsang, the "Tiger's Nest." This monastic retreat is built into a sheer cliff face high above the Paro valley. Legend has it that the Tibetan Buddhist saint Padmasambhava flew across the Himalayas on the back of a tiger and landed here, bringing Buddhism to Bhutan. The trail to the monastery climbs through beautiful pine forest and an occasional grove of fluttering prayer flags.
After visiting what is known as one of the most venerated pilgrimage sites in the country, we will go off the beaten track further up to the temples that are on the hill tops above Tiger's Nest. It's so peaceful there and you can really communicate with nature as you enjoy the views from the top be it that of mountains or the valley. No wonder that some monks have chosen this place to meditate for their life! To go down, we are following a different path that takes us through the pristine thick forest of oaks and rhododendrons festooned with Spanish mosses.
Overnight – Tashi Namgay Resort/Khangkhu Resort
第四天: 巴羅-廷布
DAY04: Paro - Thimphu

今天來到不丹的首都,也是皇室和宗教行政的綜合中心。来看看不丹的国立图书馆、旺楚河、皇宫和莲花大師舍利塔院–埃斯吐巴。不丹国家绘画艺术学院,在这里我们看到不少学生在学习传统手工艺。传统的技艺被这样正规的学校代代传承,泥塑、绘画、木雕、织布等传统工艺,然後一起前往參觀一個沒有污染的造紙廠,這個造紙場的技術與方法,還沿襲古老的技術。最后来到今日行程的高潮,进入不丹的扎西确宗堡,这里是国王及其政府官员办公的地方。参观这里要等下班以后,而且要经过安检。它位于旺楚河西岸,是一座庄严、盛大的城堡,现任国王办公室,内政、财政部门都在这里,也是宗教首领和中央宗教机构夏季驻所。
In the morning, we will take a drive to Thimphu along the windy road taking about an hour. Thimphu, perhaps the most unusual capital city in the world, is the seat of government. This bustling town is home to Bhutan's royal family, the civil service, and foreign missions with representation in Bhutan. It is also the headquarters for a number of internationally funded development projects.
The sightseeing in Thimphu includes; Visit to the School of Traditional Arts and Crafts, the school offers an six-year course in the techniques of traditional art in religious and secular paintings, woodcarving, clay sculpture and traditional mask making. One can see students working through progressive levels practicing precise rules of Bhutanese art. The school also has a showroom from where student works are sold at very reasonable price compared to town for same quality of work.
Visit the National Memorial Chorten; the building of this landmark was originally envisaged by Bhutan's third king, His Majesty Jigme Dorji Wangchuck, who had wanted to erect a monument to world peace and prosperity. Completed in 1974 after his untimely death, it is both a memorial to the Late King ("the father of modern Bhutan"), and a monument to peace.
A visit to the popular Jungshi Handmade Paper Factory, where sustainable living and the rich Bhutanese tradition of hand-made paper making coreless to create a new energy of a different kind.
Visit the government-run Handicrafts Emporium and privately owned crafts shops, which offer a wide range of handcrafted products, including the splendid thangkha paintings and exquisitely woven textiles for which Bhutan is famous.
Tashichhodzong, which translated from Dzongkha means the "the fortress of the auspicious religion" is the modern site of the King of Bhutan's offices and the central monastic body. This large and impressive structure with large golden Bhutanese-style spires on top also contains the throne room of His Majesty the King of Bhutan. Part of the year during the warmer summer months, his Holiness, the Je Khenpo, who is the head of the central monk body in Bhutan also makes his home in this dzong.
Overnight – Bhutan Suite/Hotel Pedling.
第五天: 普納卡
DAY04: Thimphu to Wangdue Via Punakha

清晨启程到到不丹的古都普纳卡,三小时的车程,如天气理想的话,沿途有机会看到壮丽的东喜马拉雅山脉,经幡被风吹起的景象,引领大家进入不丹的腹地。那是普纳卡了!普纳卡宗是不丹的古首都(1955年政府迁都廷布),位于中北部,海拔1300米。在冬天拥有比较温暖的气候,目前依然是国王冬天的行宫所在。雄伟壮观的普那卡宗堡是不丹第二座大宗堡,也是全国最美的宗堡。修建于1657年,处于Pho-chu("公河")和Mo-chu("母河")交汇处。褐色的是母亲河,黄色的是父亲河,他们在此交汇,公河与母河由于水的密度不同行程了不同的色彩,,普那卡宗象个孩子般依偎在大地父母的怀抱里。午餐后,走过了飘着经幡的吊桥,从一条小溪边向山上走去,沿途是种满了水稻的梯田,绿油油的,都能闻到庄稼的青味,我们就一路向那云雾进发,去往那高高在上的卡姆沙耶里纳耶纪念馆,站在佛塔的最高端俯瞰普那卡河谷,大河就在一片绿色中蜿蜒穿过,景色美丽绝仑!
Drive early to Punakha, the ancient capital of Bhutan taking about 03 hours across Dochu-La Pass at 3050m from where snow-capped eastern Himalayan ranges can be seen on a clear day. Prayer flags will flutter you over the pass taking you deeper into the essence of Bhutan. Once you cross the pass, you wind down into a warm fertile valley and meander along a gently flowing aquamarine river that leads you to the Punakha valley. Then visit the Punakha dzong, the winter residence of the Je khempo (chief abbot). Punakha dzong is the second dzong system built in Bhutan by Shebdrung Nawang Namgyel in the year 1637. The Dzong is said to be the most beautiful of Dzong in Bhutan; it is an outstanding structure with intense artwork.
After lunch short hike to Khamsum Yulley Namgyal Chorten in the northern part of the valley. Newly built and it is a more elaborate version of the Memorial Chorten in Thimphu. It has an astounding work of frescoes and intricate statues.
Overnight – Dragon Nest Resort/Punatshangchu Cottage
第六天: 切米拉-巴羅
DAY06: Wangdue - Paro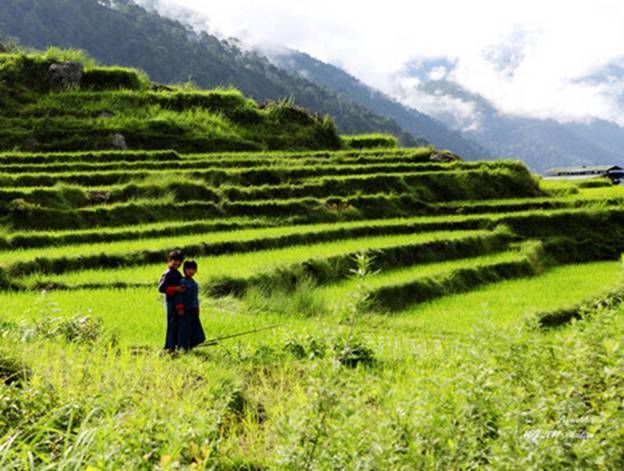 今天来个短程山径之旅,沿途仅是世外桃源的农庄风景,远处是雪山,然后往巴羅出发,途径首都廷布午餐,顺便游览菜市场,融入当地人的生活气息中,继续旅途到巴羅,沿途尽是让人不停启动摄影机的山峦,庄田和河川风景,也会顺便去参观历史最悠久的宗堡,才抵达帕罗。
After breakfast, short hike to Chimmi Lhakhang the temple of fatality, then return to return to Paro (about 04 hours drive). From Lobesa village begins a long climb back up to the Dochu La, where a stunning field of white chortens and colorful prayer flags send blessings up to the Himalayan sky; snow peaks line the horizon. From the La, it is only another hour to Thimphu and will stop for lunch.
In Thimphu, visit to the local vegetable market. You will get to meet many Bhutanese people and valley dwellers on the bank of the river where the weekend market is held. Then drive to Paro the most beautiful valleys in Bhutan with its slate-roofed farmhouses, graceful willow trees and rushing glacial river beneath snow covered peaks. En route visit Simtokha Dzong which was built by Shebdrung Nawang Namgyel in 1629 AD and also it is the oldest Dzong in Bhutan.
Overnight at Tashi Namgay Resort/Khangkhu Resort.
第七天: 回程
DAY07: Departures
早餐后退房去机场,不丹航空1130am起飞,4:40PM抵达曼谷机场,7:40PM乘搭马航MH781回家,下次再会!
After breakfast in the hotel drive to Paro airport in time to catch up your onward flight. Your escort from will bid you farewell and soon the remote and legendary Dragon Kingdom disappears again behind its guardian mountains.arrived bangkok at 4:40PM,and will be back to KLIA with MH781.
1.

價格:
17/8出发
7天6夜 每人RM7980
(包曼谷飞不丹来回机票,曼谷和不丹所有地费,不包马来西亚来回曼谷机票)

21/11出发
7天6夜 每人RM8780
(包曼谷飞不丹来回机票,曼谷和不丹所有地费,不包马来西亚来回曼谷机票)

来回曼谷机票亚航每人大约RM600-RM780
来回曼谷马航机票每人大约RM780-RM1250
*回程为了配合转机时间,如果要当天回到国内,回程 请选择马航。

2.
出发日期: 17/08/2012 或 21/11/2012
3.
旅费请存入 Please Bank In To :
PUBLIC BANK A/C
NO:306-457 3707 NG BOON SENG
4.
如果是支票, 抬头请写 Cheque with name:NG BOON SENG
5.
请把报名表格连同BANK IN SLIP传真到 :
Please FAX Enrollement Form and Bank In Slip to :
+603-3324 9443 或 Email 到 這個email住址已經被防垃圾郵件程式保護,您需要啟動Javascript才能觀看
若临时不能参与本团将不退还一切费用。
Not refundable after enrollemen.
请准时到达集合的地点。
Please meet at the mentioned place on time.
更多详细的资料请浏览:
More detail, please surf:
http://www.superfoodstar.com
最後更新 ( 2012/05/22, 星期二 )
詳細內容...
作者 文升
2012/01/06, 星期五
26/01 初四三天两夜泰南非一般宋卡合艾悠闲美食团
3D2N Extraordinary Southern Thailand Songkla and Hatyai Leisure and food tour

超级口福星黄文升独家开发的路线,专门寻访游客不常到的隐僻餐馆和美景,
让您眼界大开,更深入贴近泰南饮食文化和正宗泰菜。
Super food star lead you to exploring hideaway great restaurants and places that hideaway from tourist hot spots.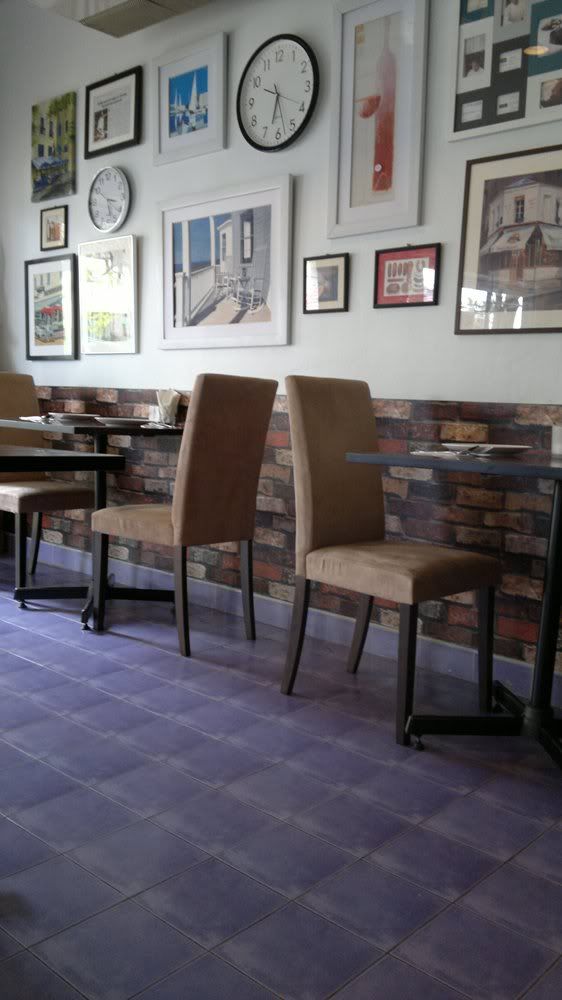 游览重点:
1) 游山玩水,寻访隐藏在泰南的地道美味泰菜
2) 游览印度混合中华文化的龙象山寺,和艺术结晶钢铁庙。
3) 分享游客鲜少到访的优雅咖啡座和糕饼屋。
第一天
Day One

Teatime
Dinner

06:00AM
Meet at North South highway Sg Buloh Jejantas rest stop,Sg Buloh 休息站集合
06:15AM
Depature.出发
12:00PM
Rest at Changlun, take some food, exchange currency, fuel gas,fill up border pass and purchase car insurance.self paid easy lunch.
在边界换钱,添油和办理出境手续。自費簡便午餐。
12:30PM
Across nation largest sugarcane field 经过全国最大甘蔗园
01:30PM
Arrive Padang Besar,across border.抵达巴当勿杀,越境。
----------Beyond this turn to Thailand timezone 以下为泰国时间-------------------
02:00PM
Visit Hindus style Wat Khao Rup Chang 印度式设计的龙象山寺
02:45PM
Depature to Hat yai前往合艾
04:00PM

Having great coffee or tea time with splendid pastry on hideaway elegant café. 到隐藏在后街的优质咖啡座享用下午茶点。

05:00PM
Check in hotel 进驻酒店。
06:00PM
Visit hill top to enjoy sunset of Hat yai City.到山顶俯瞰合艾市和日落
07:00PM
Dinner at most lovely restaurant of Hatyai 最雅致的餐厅晚餐,享用兰花饭,柚子凉拌,招牌美味炸猪脚和其他名菜。
08:00PM
Visit Lantern Festival 参观年度户外花灯展
09:00PM
Free and Easy

第二天
Day Two

Lunch
Dinner

Morning
Free and easy上午自由时间,可以去菜市场或其他活动
12:00PM
Meet up at lobby,depature to lunch venue 大堂集合
12:30PM
Lunch at hillside restaurant,enjoy Tomyam,wild vege salad and others authentic Southern Thai style dishes
午餐优美山边餐厅品尝正宗冬炎汤,巴古菜凉拌和其他地道泰南菜。
01:30AM
Visit Chedi Thaimongkhon Hatyai (Stainless Steel Pagoda) 钢铁庙
02:30PM
Enjoy Thai style ice cream 品尝泰式创意雪糕
04:00PM
Visit evening floating market 黄昏水上市场
05:45PM
shopping at Hatyai Big C ,with the eye wide shut variety of foods.
到合艾Big C霸级市场见识琳琅满目的食物和购物。
07:00PM
Dinner with Northern style Thai restaurant 晚餐品尝细致泰北餐
08:30PM
Free and Easy自由活动

第三天
Day Two

Lunch

Morning
Free and easy上午自由时间,可以去菜市场或其他活动。
11:30AM
Meet up at lobby,check out大堂集合,退房
12:00PM
Lunch at Home kitchen style restaurant 午餐于隐僻住家式优质餐厅。
01:15PM
Depature to border往边界出发
02:45PM
Across border at Padang Besar
Estimate arrive at KL around 1130PM,预测十一点半抵达吉隆坡。
Reminders 贴心提醒:
Driver should make sure the owner of the car will on the car,Original Car Grant need to bring along the trip, the car grant can request from bank if still under installment.

Passport should valid at least 3 month before expired date on the depature day.

Prepare casual wears,walking shoes,sun glasses and slippers.

Thai baht could be exchange before depature or at Changlun,kedah during prepare the border pass.some of the shop will accept Malaysia ringgit,but would get the lower exchange rates.

Most of the mobilephone line will be auto roaming after across the border,please beware the high charging even just receive the calls.
1.
自驾每人只是 RM550,12岁以下有床位 RM520,无床位 RM450
(2晚酒店住宿,2个午餐和2个晚餐,咖啡馆,雪糕屋,人和车子出入境手续费)
如果需要提供旅游Van车, 从雪隆上车,每人附加RM250,北馬上車,每人附加RM150.

送!Bonus!All extra self request dishes, fruit juice ,soda drink and alcoholic drink are not included in the fees.餐馆果汁,汽水和啤酒全包。

咖啡馆消费(第一杯饮料和第一份甜品或雪糕,额外自费)
2.
旅费请存入 Fees please bank in:PUBLIC BANK A/C
NO:306-457 3707 NG BOON SENG
3.
如果是支票, 抬头请写 Cheque with name:NG BOON SENG
4.
请把报名表格连同BANK IN SLIP和护照副本传真到 :
Please FAX Enrollement Form and Bank In Slip to :
+603-3324 9443 或 Email 到 這個email住址已經被防垃圾郵件程式保護,您需要啟動Javascript才能觀看

若临时不能参与本团将不退还一切费用。
Not refundable after enrollemen.
请准时到达集合的地点。
Please meet at the mentioned place on time.
更多详细的资料请浏览:
More detail, please surf:
http://www.superfoodstar.com
最後更新 ( 2012/01/06, 星期五 )
詳細內容...
作者 文升
2011/11/29, 星期二
马六甲超级美食团
Superfoodstar Melaka Super Food Trip
日期:31/12-1/1/2012

2天1夜豪华巴士团,入住四星Avillion Legacy hotel,包吃7餐!到您熟悉的目的地,挖掘和品尝你或许还不知道的超级美食!

口福星黄文升為美食同好特别策划独家玩法,,窥探隐藏在热门旅游区里面的超级美食,或者你平时找上门也尝不到的美食,如重量级的腌鸡配巨型鸡粒饭,全国最优千层蛋糕,一晚只做几桌的传统潮州小菜馆和芋头肉骨茶等等,悠游走走,深入民间,寻访新奇地方和美味好菜!

人数有限。

游览重点:
1.隐藏在旅游区的超级中西美食,巨型鸡粒饭,小酒馆总统潮州菜
2.文化遗产区深度之旅
3.最新葡萄园和最优新村黄酒鸡
第一天
Day One

Lunch
Dinner

08:30AM
Banting 万津大街集合
09:30AM
吧生Esso station next to Bkt Tinggi Jusco 集合
10:15AM
Subang Summit Plaza 集合
10:45PM
Bukit Jalil LRT 集合
01:00PM
Lunch at Melaka,taste heavy weight Chicken rice ball and others authentic Hainanese cuisine 品尝重量级腌鸡鸡粒饭和传统海南好菜。
02:15PM
Visit the heritage shop house 拜访和参观传统荷兰老街屋
03:00PM
Visit mosque at Strait of Melaka 参观填海区海上回教堂
03:50PM
Enjoy the best layered cake of nationwide 品尝全国最优日式千层糕.
05:00PM
Check in Hotel 进驻酒店,梳洗休息
06:30PM
Meet at Lobby 大堂集合
07:00PM
Dinner at hideaway Teochew authentic restaurant 品尝隐藏在后巷小酒馆的超级潮州菜,潮式烧乳猪和最优金瓜芋泥和其他好菜。
08:15PM
Visit Jongker street 夜游鸡场街
09:30PM
Back to hotel,free and easy and celebrating count down
回到酒店,自由时光,庆祝倒数。

第二天
Day Two

Breakfast
Lunch
Dinner

09:00AM
Meet at lobby 大堂集合
09:15AM
Breakfast with yam bak kut teh or authentic Teochew porridge
早餐品尝芋头早餐或传统潮州粥
10:00AM
Shopping time 购买土产
10:45AM
Enjoy one of the best Cendol in town that hideaway at the back street
品尝后巷美味椰糖煎堆
11:30AM
Back to Hotel 回到酒店
12:15PM
Check Out 退房
12:45PM
Lunch 午餐
03:00PM
Visit Sendayan Valley Grape and Fruit Farm 参观最新葡萄园
04:45PM
Enjoy the best yellow wine whole chicken and others authentic village dishes
品尝黄酒全鸡,炒面粉糕等隐藏在新村的最优家乡好菜
06:45PM
Arrive at KL bukit jalil LRT
07:10PM
Arrive at Subang Summit Plaza
07:45PM
Arrive at Esso station next to Bkt Tinggi Jusco抵达吧生
08:30PM
Arrive at Banting抵达万津
1.
價格:
旅游收费:
巴士团(Bus Tour)以20人或以上计算
-RM468 (12岁-成人above 12 yrs old and adult)
-RM448 (12岁以下below 12 yrs old)
-RM368 (12岁以下酒店无床)
2.
出发日期: 31/12/2011 - 01/01/2012
3.
旅费请存入 Please Bank In To :
PUBLIC BANK A/C
NO:306-457 3707 NG BOON SENG
4.
如果是支票, 抬头请写 Cheque with name:NG BOON SENG
5.
请把报名表格连同BANK IN SLIP传真到 :
Please FAX Enrollement Form and Bank In Slip to :
+603-3324 9443 或 Email 到 這個email住址已經被防垃圾郵件程式保護,您需要啟動Javascript才能觀看
若临时不能参与本团将不退还一切费用。
Not refundable after enrollemen.
请准时到达集合的地点。
Please meet at the mentioned place on time.
更多详细的资料请浏览:
More detail, please surf:
http://www.superfoodstar.com
最後更新 ( 2011/11/29, 星期二 )
詳細內容...
作者 文升
2011/11/20, 星期日
四天三夜 胡志明市/古芝/美拖
3D4N Ho Chi Minh City / Cu Chi / My Tho / Ben Thanh
日期: 25/01/2012 - 28/01/2012
第一天: 抵达胡志明市(晚餐)
DAY01: ARRIVAL HO CHI MINH CITY (D)
抵达新山一国际机场后,由专业导游迎接转乘空调旅游巴士送往享用晚餐。餐后,送回住宿酒店。
Upon arrival at Tan Son Nhat airport, meet by our representative and dinner at local restaurant. Overnight at hotel.
第二天: 胡志明市 / 古芝 / 胡志明市(早/午/晚餐)
DAY02: HO CHI MINH CITY / CU CHI / HO CHI MINH CITY (B/L/D)
早餐后,乘约一个半小时的车程前往闻名世界的越战遗迹─古芝地道,此地道长逾200公里,为越南抗美时期的越共游击队之地下根据地。游客至此可亲身感受到越共打游击战之苦,並体验战争现场的气氛。完毕后,返回胡志明市用午餐。餐后,续而参观战争博物馆,这里展示了触目惊心的越战图片,各式各样武器及化学毒剂,各类战机大炮等。随之前往著名的漆器工厂和手工艺品店。晚餐於当地餐厅。
After breakfast, a one and half hour drive takes you to Cu Chi where human knowledge has been enriched by experiencing an web-like tunnels system of more than 200km in length which used to be the shelters of guerrillas during the war against American troops .Return to Ho Chi Minh for lunch. After lunch, visit to The War Museum, the famous lacquer ware factory and the handicraft center. A sumptuous dinner awaits you at local restaurant.
第三天: 胡志明市 / 美拖 / 胡志明市 (早/午/晚餐)
DAY03: HO CHI MINH CITY / MY THO / HO CHI MINH CITY (B/L/D)
早餐后,乘约两个小时的车程前往距离胡志明市75公里的美拖市,沿途可欣赏郊区及湄公河平原区沿岸两旁青绿一片的丰饶稻田。抵达美拖后乘船游湄公河,参观泰山岛及在水果园品尝越南之特产时节水果,并欣赏当地传统民谣等。之后,参观生产椰子糖工厂,岛上居民区,手工艺品加工处,养蜜蜂处和品尝蜜糖茶。然后,乘坐小船沿小河畅游再转接大船返回岸。午餐品尝美拖驰名的–越式油泡象耳鱼。下午乘车返回胡志明市,前往堤岸华人区和天后宫。晚餐於当地餐厅。
After breakfast, a two hour drive to My Tho will expose the colorful outskirt life as well as picturesque rice fields along the journey. Upon arrival, get on a boat trip up Mekong River with islet stop at Thoi Son to taste seasonal fruits, enjoy traditional folk songs. Then, visit the authentic life of the local and challenge your bargaining power at cottage handicraft shops. An adventurous sampan ride in palm shading creeks will be the next experience of the riverside region. Lunch to be served with the Mekong Delta specialty – Deep Fried Elephant ear fish. Return to Ho Chi Minh City in the afternoon, visit to China Town and Thien Hau Temple .A sumptuous dinner awaits you at local restaurant.
第四天: 启程回国 (早/午餐)
DAY04: DEPARTURE HO CHI MINH CITY (B/L)
早餐后,自由活动至午餐时分。餐后,前往市内观光:已有百年历史的红教堂(圣母大教堂),法式建筑的邮政大楼和市政厅等旅游景点。越南地标~滨城市场,此市场的规模很大,是游客购物的绝佳场所。傍晚时分,送往机场办离境手续启程回国,挥别胡志明市,结束四天愉快旅程。
After breakfast , free and leisure. After lunch, transfer to A Short sightseeing tour of Ho Chi Minh City: The Hundred Years Red Cathedral (Notre Dame Cathedral), The Old Post Office and The People's Committee Hall. Continue to Ben Thanh Market to shop until your drop. In evening, tour transfer to airport for departure flight and with sweet memories.
1.
價格:
RM2680 (全包)
2.
出发日期: 25/01/2012 - 28/01/2012 (4D3N)
3.
旅费请存入 Please Bank In To :
PUBLIC BANK A/C
NO:306-457 3707 NG BOON SENG
4.
如果是支票, 抬头请写 Cheque with name:NG BOON SENG
5.
请把报名表格连同BANK IN SLIP传真到 :
Please FAX Enrollement Form and Bank In Slip to :
+603-3324 9443 或 Email 到 這個email住址已經被防垃圾郵件程式保護,您需要啟動Javascript才能觀看
若临时不能参与本团将不退还一切费用。
Not refundable after enrollemen.
请准时到达集合的地点。
Please meet at the mentioned place on time.
更多详细的资料请浏览:
More detail, please surf:
http://www.superfoodstar.com
最後更新 ( 2011/11/20, 星期日 )
詳細內容...
作者 文升
2010/11/22, 星期一
11/06 雪北滨海区家乡味海鲜之旅
11/06 Northern Selongor Fishery Villages Seafood Trip

超级口福星黄文升為美食同好特别策划独家玩法,悠游走走,深入民间,寻访美味好菜! 人数有限。
Vincs Huang sharing all hideaway great seafood with you and your family during the year end holiday.
日期:11/6-12/6/11 (2D1N 两天一夜)
游览重点:
一线式游览整个雪州北区滨海渔乡,到很少外人知道的住家海鲜餐馆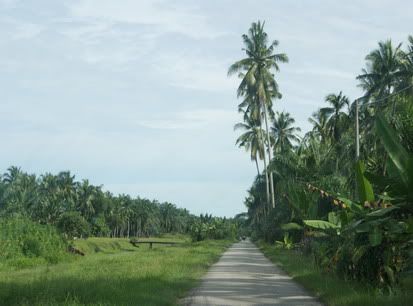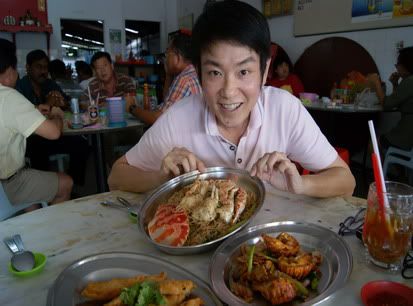 第一天
Day One

午餐Lch
晚餐Dnr

10:00AM
集合,往半港出发
Meet up!Depature to Hutan Melintang
12:30PM
午餐于半港,尝花蟹炒米粉,酥炸大黄鳗,干煎虾婆,炒鲨鱼等罕见海鲜。
Lunch tasting Flower Crabs fried rice noodles,Deep fried Great eel fillet,fried black tip shark and others seafood.

02:00PM
参观隐藏在工业区的丹麦面包厂
Visit Danish Bakery that hideaway at factory area.
02:45PM
参观椰子加工食品 Visit coconut food mill
04:00PM
进驻酒店,梳洗 Check in hotel.
05:15PM
集合出发 Meet up
05:30PM
到海口观赏渔船归航和黄昏美景Seeing evening view at fishery harbor.
06:45PM
尝住家式滨海风味海鲜晚餐,尝酱油焗螃蟹,魔鬼鱼卡拉布,菜脯炒豹鲨,清蒸游水虾蛄等。
Tasting hideaway family style delicious seafood with Soy sauce grilled crabs,sweet and sour salad with crispy string ray chips, Steam Fresh Mantis prawn and others.

08:00PM
回到酒店,自由活动。
(想看萤火虫的朋友,可以安排,另需收费)
Back to hotel,free and easy(for those wish to visit fire-fly area can be arranged.)

第二天
Day Two

早餐Bf
午餐Lch
晚餐Dnr

09:00AM
Meet up 集合
09:15AM
蒸鱼早餐 Steamed fish breakfast
10:00AM
游览稻田,米厂和果园Visit Padi field ,rice mill and Orchard.顺便购买土产buying goods
11:45AM
回到酒店,梳洗收拾Back to hotel,packing .
12:45PM
退房,往南出发check out,go south.
01:30PM
午餐尝鲜少外人到访的小渔港住家式海鲜楼,尝新鲜游水海鲜。
Lunch at hideaways fishery village seafood,tasting various kinds of swimming seafood.
03:00PM
购买海产干料和其他土产buying fishery goods and others.
03:45PM
到瓜雪皇家山吃风看山水Visit Bukit Melawati to view Strait of Malacca.
04:30PM
往吧生港口出发depature to Port Klang
05:45PM
享用吉胆岛古早味住家海鲜餐,有煸花蟹花虾,潮州蒸鱼,酥炸龙舌鱼,清蒸蛤蜊等。Dinner tasting Pulau Ketam tradisional style seafood homecook.Such as Grilled flower crabs,flower prawns,steaming calms and fishes.

07:15PM
美食团告一段落,下次再会!The end,see you again.
1.

價格:
汽车自驾团Self-driving trip
(可为无车团友安排交通transport can be arranged for those needed)
每人each person RM290
(包上述餐食,住宿以2-3人一房,都有床位;领队费用和其他杂费all in except transport)
单人房Single room RM360,12岁以下below 12 years old RM150
(假期特别优待)

2.
出发日期: 11/06/2011
3.
旅费请存入 Please Bank In To :PUBLIC BANK A/C
NO:306-457 3707 NG BOON SENG
4.
如果是支票, 抬头请写 Cheque with name:NG BOON SENG
5.
请把报名表格连同BANK IN SLIP传真到 :
Please FAX Enrollement Form and Bank In Slip to :
+603-3324 9443
若临时不能参与本团将不退还一切费用。
Not refundable after enrollemen.
请准时到达集合的地点。
Please meet at the mentioned place on time.
更多详细的资料请浏览:
More detail, please surf:
http://www.superfoodstar.com
最後更新 ( 2011/05/16, 星期一 )
詳細內容...
作者 文升
2011/04/02, 星期六
30/04/2011 超级口福星古晋美食团 (5D4N, 3D2N)
Super Food Star Kuching Sarawak Cuisine Tour
询问热线: 017-6788289




口福星黄文升,為美食同好推薦他最喜爱的沙拉越,悠游走走,深入民间,寻访新奇地方和美味好菜!讓您有個與眾不同的古晉好印象。
游览重点:
1 西马少见的沙拉越珍奇地方美食。(海鲜,河鲜,各种地方蔬果和野菜)
2 时光倒流的传统中华菜肴(福州,潮洲,客家和其他美食)
3 非一般旅游区,到古晋郊外小镇市集,长屋和风景区。

吃得正宗,玩得深入,住得豪華舒適

Flight Detail机票请自己订购:
30/4/11 PEN-KCH AK 6506 955AM, ETA: 1155AM (槟城出发朋友)
30/4/11 KUL-KCH AK 5204 945AM, ETA: 1130AM(吉隆坡出发朋友)
02/5/11 KCH/KUL AK 5219 ETD: 0850PM,1135PM到KL(3天2夜朋友返回航班)
04/5/11 KCH/PEN AK 6501 ETD: 1500PM, 0500PM到PEN (5天4夜槟城朋友返回航班)
04/5/11 KUL/KCH FY 621 ETD: 1830PM, 0815PM到KL (5天4夜吉隆坡朋友返回航班)
行程表:
30/04/2011
1155AM: 抵达后,品尝砂拉越特色的福州菜,然后到一周才有一次的东马土著市场,很多山区的土著,把很多其他地方罕见的特产,带来古晋市摆卖,流了一身汗后,先进驻酒店梳洗,下午再到古晋河畔的老街游览古迹,然后登上游艇,在砂拉越河欣赏两岸风景和日落。晚餐到隐藏在菜市场楼上的海鲜档子品尝火候十足的潮州式海鲜晚饭。饭后返回酒店,可在酒店比邻的商业区享受自由时光。

1155AM: Meet at Kuching airport & transfer to lunch – FuZhou Cuisine . After lunch, visit to Weekend Indigenous Market, check in hotel,after short break,visit Tua Pek Kong Temple, Carpenter Street & Main Bazaar大伯公庙和海唇街和亚达街.. Late evening, proceed to Sunset Cruise with welcome drink & snack. Dinner with Teo Chew seafood. After dinner, free and easy at hotel area & rest.
01/05/2011 (Hotel Breakfast)
0900AM: 酒店早餐后,往百年金矿古镇石隆门出发,去寻访罕有的猪笼草糯米饭和欣赏金矿留下的美丽碧湖,午餐由文升当地朋友特别安排别具风味的地方佳肴。午饭后到野生保育区去拜访婆罗洲人猿,回到古晋市,由文升安排心仪的好餐厅享用晚饭。

0900AM: Visit to Bau Town – Bau Market & Blue Lake. Exclusive local speciaty Lunch at Bau .
After lunch, transfer back to Kuching town & visit to Semonggoh Wildlife Centre (Orang Utan). After visit, back to Kuching town. Dinner at local restaurant that recommended by Vincs Huang.
02/05/2011 (Hotel Breakfast)
0930AM: 酒店早餐后,去参观长屋,然后在村落里寻幽探秘,折返长屋后,观摩和学习土著菜肴制作,然后在长屋共用午餐。回到古晋市区,到博物院旁试吃本地特色的虾酱米粉。到印度街买胡椒,咖啡粉和其他土产。然后到文升安排的餐馆享用晚餐。

0930AM: Visit to Annah Rais Bidayuh Longhouse. Proceed to village tour & then back to longhouse for cooking lesson. Lunch at longhouse with traditional bidayuh food. After visit, back to Kuching city & visit to Sarawak Museum. Tasting Belacan rice noodle.Then, shopping at India Street if time allow. Dinner at local restaurant that recommended by Vincs Huang.Go to airport for those joining 3D2N package.
03/05/2011 (Hotel Breakfast)
0830AM: 酒店早餐后,参观胡姬花园,千层糕厂,眺望砂拉越河口的青山岩庙和猫博物馆,午餐后到砂拉越文化村欣赏文化表演和各族长屋和民居。旁晚回到古晋市区,享用海鲜晚餐。

0830AM: visit to Orchid Garden, Kek Lapis Factory, Muara Tebas Temple & Cat Museum. Lunch at Buntal Village. After lunch, visit to Sarawak Cultural Village. After cultural show, back to kuching city. Seafood dinner at TOP SPOT Centre.
04/05/2011 (Hotel Breakfast)
酒店早餐后,上午1130退房,到海天楼享用午餐,槟城的朋友往机场,吉隆坡的朋友则到Spring购物广场自由活动,直到往机场时间为止。

1130AM: Check out hotel & transfer to Hoi Tin Lau for lunch. Then, transfer to airport for departure ETD: 1500. The least drop off The Spring for shopping until 4..30pm transfer to airport for departure.
See you again ! 下次見 !
最後更新 ( 2011/04/02, 星期六 )
詳細內容...
[視頻] World-risky market of Thailand
[視頻] Lakeside Restaurant Padang Besar
<< 首頁
< 上頁
1
2
3
下頁 >
末頁 >>
當前記錄 1 - 14 / 35